One of the most influential and discussed musicians in recent history yet one of the hardest to define and pin down, Charles Mingus family's lineage was extremely mixed and included Asian-British, German-American, African-American, and Native American roots. Just like he never felt he fully belonged to any of those communities, so his music never fitted a specific genre or movement. He was the quintessential outsider striving to find his place in life and society. His music represents that quest beautifully, in a constant process of self-discovery, improvement, and change.
Mingus' personality was complex and multifaceted–lyrical, visionary, romantic, argumentative, angry, and occasionally violent, ready to pick a fight to defend his ground. All those qualities come to fruition in his works, often together, and that's why it took a while before his music obtained the recognition that it deserved.
Charles was born in 1922 and was inspired by church music but also by Duke Ellington, a big band composer and arranger that reshaped Jazz music in the 1930s. The young Mingus was drawn to music and his talent made up for the patchy musical education he was able to receive in his early days. He learned to play many instruments eventually focusing on the Cello. But at the time, there was little hope for someone with his heritage to work as cellist, so he picked up the double bass and, in his late teens, was already recognised as an exceptional player.
In no time he became an established figure in the jazz community working with the some of the most well-known band leaders of his time, including Duke Ellington (one of his heroes), Miles Davis, Charlie Parker, Louis Armstrong, and many others.
But Mingus wanted more: he aspired to be one of the first bassists to lead his own band. Thus, when he moved to New York in the 1950s, he established a collective called the "Jazz Workshop," to refine his skills and work with other likeminded composers.
Mingus soon became a household name and a very respected composer and band leader. His music became recognised worldwide, and his recordings are testimony to his genius and charisma. They include: Pithecanthropus Erectus, The Clown, Tijuana Moods, Mingus Dynasty, Mingus Ah Um, The Black Saint and the Sinner Lady, Cumbia and Jazz Fusion, Let My Children Hear Music—to name a few. He recorded over a hundred albums and wrote over three hundred scores.
As his influence grew as a musician, Mingus, who experienced first-hand racism, became a very powerful voice in the political and social turmoil of 1960s America. But once again, he did that in his own way, with his voice, from his point of view, not necessarily trying to find political or cultural affiliations; he was still an outsider after all. The famous song Fables of Faubus, one of his most "explicitly political works," protested against the governor of Arkansas, Orval Eugene Faubus, who was behind the National Guard's prevention of the integration of Little Rock Central High School.
By the mid-1970s, Mingus was suffering from amyotrophic lateral sclerosis and he could no longer play the bass, but he carried on composing and contributed to several recordings before his death including Joni Mitchell's album Mingus that was released soon after his death in 1979 at the age of 56.
Mingus is now one of the most recognised figures in contemporary music and his legacy is celebrated around the world.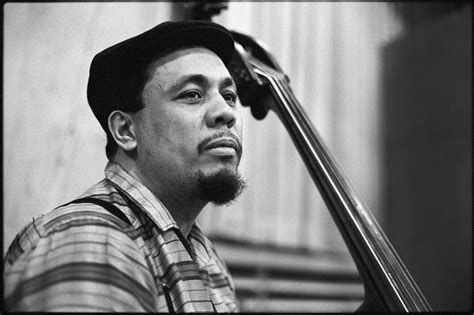 The Clown - 1957
This slightly lesser known album predates the classic Mingus releases, "Mingus Ah Um" & "Blues and Roots", but still features stalwart sidemen such as Danny Richmond on drums, ,Jimmy Knepper on trombone and alto saxophonist, Shafi Hadi.